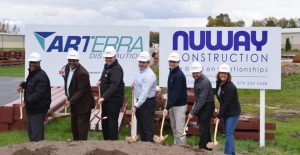 Arterra Distribution Breaks Ground for New Building Addition
Elkhart, IN, November 2nd, 2021 – Arterra Distribution, the RV industry leader in power conversion products, broke ground on a new 34,000-square-foot addition that will expand its warehouse and production facilities.
Bobby Raatz, Managing Director of Arterra Distribution, states, "We're looking towards the future. Best-in-class quality and value are the foundation of our company and the driving force behind our decisions. As we continued our growth strategy, it became evident that we needed to expand beyond our current footprint and increase our capacity. We are eager to get the additional space operational as a continued commitment to maintaining the high level of support and service our customers deserve. This expansion project will add nearly 65% more space to our building, allowing us to grow and become more operationally efficient. We have an exceptional team at Arterra Distribution, whose commitment and dedication to success is the driver behind where we are today and where we will be tomorrow."
Nuway Construction, a design-build general contractor located in Goshen, IN, was selected for the project. "We are honored to have been chosen for this project. We aim to increase the building's square footage and improve employee comfort and overall efficiency for Arterra Distribution." This addition is scheduled to be completed in January 2022.
For more information about Arterra Distribution, please visit https://www.wfcotech.com/. For more information about Nuway Construction, please visit Nuway Construction.
For any WFCO resources, tools, and information on our products, email support@wfcoelectronics.com with your request, or click here to download the WFCO Training Catalog. To learn more about our products through video, click here.