Talk to an OEM Sales Representative
Our goal is to make power supply and electric service an easy and worry-free part of your procurement and installation process. Let us know how we can help you. 
Indiana: 574.294.8997 | Toll-free: 877.294.8997
Product Information
Get started with our products! Explore our lineup through our website or download the product catalog for offline reference.
Power Pro Technical Support
Our online Technical Support hub is loaded with videos, documents, troubleshooting charts, guides, and more. For personal service in real-time, contact our Power Pros at 877-294-8997, Option 1 or technicalsupport@wfcoelectronics.com.
Training
If you are interested in OEM training, please email us at support@wfcoelectronics or give us a call.
Indiana: 574.294.8997
Toll-free: 877.294.8997
Need Additional Help?
We're here to support you. For any WFCO resources, tools, and information on our products, email us with your request.
Six Reasons OEMs Choose WFCO
When you choose to install WFCO Electronics in your RVs, you're choosing the industry leader. Used in over 80% of all RVs built today, WFCO's exceptionally reliable converters are trusted by OEMs four times more than all other brands combined. Here's why.
1. Proven Reliability and High Quality
Used in over 80% of today's RVs, WFCO's exceptionally reliable converters are trusted by OEM engineers four times more than all other brands combined. Components and circuits are quality tested at critical manufacturing stages, resulting in zero faults at the final 4-hour burn-in test. It is a product of unmatched reliability, with warranty claims well under one percent.
2. More for Your Dollar — Always
WFCO is a vertically integrated company, which enables us to provide quality control at every supply chain level while also achieving cost reductions due to the lack of supplier markups and volume efficiencies. WFCO delivers quality products and superior support at costs equal to or lower than other brands.
3. Best Supplier Partner
WFCO is a family-owned American company based in California with its North American distribution warehouse based in Elkhart, close to most of our customers. We have invested in 55,000 sq. ft. of warehouse space and a 45-day inventory, which allows us to handle every order expeditiously, including emergency and same-day delivery, so your production line never has to wait for a WFCO product.
Customer service is our priority, starting when you contact our customer-focused sales team. Our experienced representatives know your business and take the time to help you find the best solutions to your needs.
RV manufacturers also benefit from our in-plant line audits and energy audits, which are often provided at a moment's notice when the need arises. WFCO can help you solve problems in your power supply for any RV and can also help you improve installation efficiency or quality, making us a helpful resource as you select the best products for each application and an ongoing asset to your operations.
Our Power Pro team, with over 50 years of combined experience, supports OEMs with in-plant installation support and expert resources. We are customer-focused, not stockholder-focused, and provide expert help in every way our customers need.
4. The Installers' Friend
WFCO works with installers every day to streamline installation and reduce time.
5. Advancing RV Power Supplies
WFCO develops innovations that become industry standards for 20 WFCO Firsts. We are the only supplier with the resources to offer solutions for every RV need, including lower-volume niche products. Companies can have confidence in WFCO as the best total solution to their power needs, that it is a company that takes care of its customers, that it will keep up with future challenges, and give them the most for their money.
6. The RV Industry's Electric Authority
WFCO has 40 years of power products experience. We helped develop the RV industry's codes and standards. That background helps us improve product design for ease of use, reliability, and performance.
Power Pro Support for RV Manufacturers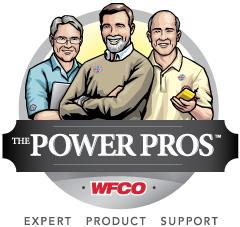 Our Power Pro technical support team members have a combined 50+ years of technical experience. Most have built and serviced RVs and have a wide range of experiences with engineering and technical support of electrical products, including an RVIA-certified staff technician. When you call, you get years of experience giving you real-world advice that works. The WFCO Pros are not looking for answers in books — you get an answer right away or a return call within hours.
For RV manufacturers, it works like this: It's late on a Friday. A customer needs a rush energy audit for a new RV design for a looming RV show launch. Our Power Pro is on-site within an hour, working the numbers and meeting the customers' vital needs. Being within an hour's drive of most of our customers is essential to this rapid service capability. But more important is that every WFCO Power Pro, in fact, every WFCO employee, lives and breaths the company mantra…treat every customer as part of the family, with service being our priority.
From a practical standpoint, here are a few of the essential services our manufacturing partners enjoy:
WFCO Power Pros perform energy audits upon request.
WFCO performs line audits daily, using and testing products on OEM production lines to ensure line workers are installing and using WFCO products properly. Line audits are routinely performed for every customer production line. We help you find better, quicker, more efficient ways to install our products. Because our Pros are frequently in OEM plants, they are on hand to answer questions and solve issues before problems occur.
WFCO makes emergency runs with products when an OEM finds an unexpected need. This is easy because our 91,525 sq. ft. warehouse is close to most of our customers, and we always maintain a 45-day inventory of all products.
Technical Support phone lines are available to all customers. OEMs do not need to wait for a Power Pro to visit. Call 877-294-8997, Option 1.
Request an Installation Audit
To request an installation audit, simply give us a call or complete the audit request form below and our Power Pros will happy to assist you.