Power Pro Support for RV Dealers
WFCO's Power Pro team supports you with more than 50 years of combined experience. When you call, the Power Pros will not read answers from a book. They know from experience what works, how RVs are built, and the best solutions to common and unusual problems. Our help speeds your job up, which can help reduce your service time and cost.
We know the importance of fast, easy, and effective service/replacement of power equipment when an RV owner needs help. To ensure our dealer service network has all the answers as quickly as possible, our Power Pro technical support team is ready to help. Dealer calls and emails are answered by real people whenever possible, and a fast callback is promised if everyone is busy when you call.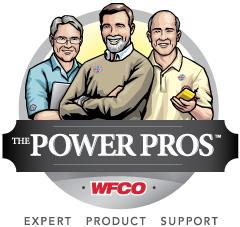 Power Pro Technical Support
Our online Technical Support hub is loaded with videos, documents, troubleshooting charts, guides, and more.
For personal service in real-time, contact our Power Pros at 877-294-8997, Option 1 or technicalsupport@wfcoelectronics.com.
Product Information
Get started with our products! Explore our lineup through our website or download the product catalog for offline reference.
Need Additional Help?
We're here to support you. For any WFCO resources, tools, and information on our products, email us with your request.
Six Reasons RV Dealers Choose WFCO
As RV dealers and service centers, when you choose to install WFCO Electronics, you're choosing the industry leader. Used in over 80% of all RVs built today, WFCO's exceptionally reliable converters are trusted by OEMs four times more than all other brands combined. Here's why.
1. We're The Installers' Friend
Most important to the aftermarket is that WFCO converters are designed for easy installation, minimizing technician time while avoiding mistakes and improving your customer's satisfaction. We offer comprehensive cross-reference tools to help in product selection. Four SKUs cover most replacement needs, and WFCO has the most extensive portfolio of specialty products that can replace virtually any obsolete converter you encounter. We are the only supplier with the resources to offer solutions for every RV's need, including lower-volume niche products.
2. Proven Reliability and High Quality
Our components and circuits are quality tested at critical manufacturing stages, resulting in zero faults at the final 4-hour burn-in test. It is a product of unmatched reliability, with well under one percent warranty claims.
3. More for Your Dollar—Always
As a vertically integrated company, we're empowered to provide quality control at every supply chain level while achieving cost reductions due to the lack of supplier markups and volume efficiencies. In short, we deliver quality products and superior support at cost, allowing dealers to gain healthy profits.
4. Best Aftermarket Support
WFCO is a family-owned American company. Our Power Pro team supports aftermarket installation with technical support phone lines handled by techs with more than 50 years of combined experience. We are customer-focused — not stockholder-focused — and we provide help in every way our customers need.
5. Advancing RV Power Supplies
WFCO develops innovations that become industry standards. RV service centers can have confidence in WFCO as the best solution to their customers' needs.
6. The RV Industry's Electric Authority
WFCO has 40 years of power products experience. In fact, we helped develop the RV industry's codes and standards. That background helps us improve product design for ease of use, reliability, and performance.
RVTI Technician Training
WFCO is proud to offer web-based training for RV dealer technicians on WFCO Electronics power products that counts towards the RVTI Continuing Education program.
Power Ambassador Program
Our Power Ambassador Program provides dealerships and technicians with in-depth training on WFCO's product line to help dealerships better sell, replace, and troubleshoot WFCO products.
4 SKUs for Your Dealership
Our market research study confirmed that you can reduce inventory costs and still handle most converter/power center needs by stocking just four WFCO SKUs. Find out what they are and order today!