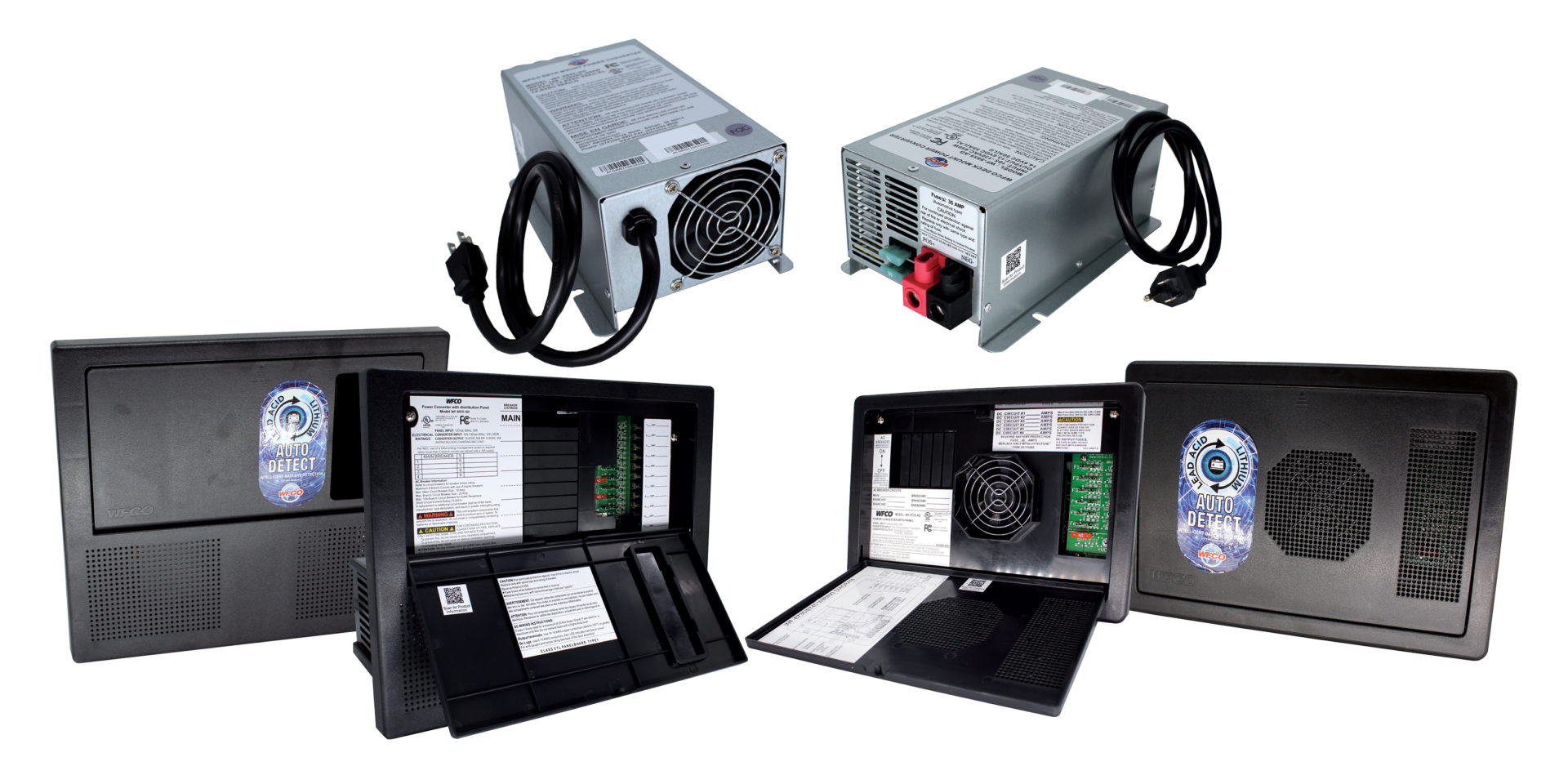 As the long-standing leader in product performance, quality, and value, WFCO Electronics continues to develop customer-focused technology and solutions for the RV industry. Through the continued pursuit of simplifying and improving the RV experience, WFCO launched a converter/charge technology and a 2,000W inverter.
As RVers explore further into forests, deserts, and other remote locations, access to a consistent power supply can be challenging to find. This is creating a significant increase in demand for lithium-ion batteries, which require different charging and management than their traditional lead acid counterparts. Converters/chargers with a manually switchable charging profile were the initial, simplistic method to address this issue. WFCO sought to develop a better solution to simplify the RV owners' experience and has launched exclusive, Patent Pending, Auto-Detect technology across all WFCO converters and power centers. This technology DETECTS lead-acid or lithium-ion batteries and AUTOMATICALLY changes the charging profile based on the need of the battery.
Auto-Detect continuously monitors RV batteries, eliminating the risk of over or under-charging by applying the correct charging profile of the connected battery. It also has multi-stage charging and current monitoring for lead-acid and lithium-ion profiles, which helps it maximize battery life by only providing the charge level the battery needs. Auto-Detect combines tremendous performance with unmatched ease of use. No changes are needed during installation. It's a drop-in replacement for all current and past generations of WFCO products. No additional wiring or connections are required, and product dimensions are identical to our past products. Also, our new variable-speed fan algorithm provides quieter operation at lower amp draw and responds better to changes in DC loads. With no switches, buttons, dials, or product replacements, WFCO's Auto-Detect provides the optimal solution for RV owners to be genuinely lithium ready.
In addition to improving how batteries are charged, the growth in off-grid camping created a need to utilize better the power stored in RV batteries. WFCO set out to develop a next-generation inverter to serve this demographic better. WFCO's new WF-5220, a 2000-watt inverter, offers superior performance, easy operation, and simplified installation. Allowing a full pass-through of 30A through the internal transfer switch, the WF-5220 can have the shore power supply wired directly to the inverter, eliminating the need and cost of a separate sub-panel for the RV. Due to the high-frequency design of the inverter, the WF-5220 is the ability to start and run a 15,000 BTU roof-mounted air conditioner while inverting from battery power. Off-grid RVers can now have the same level of comfort operating on battery power when plugged in at a campground.
The WF-5220 includes WAGO-style spring latches for all AC connection points and externally mounted DC terminal blocks to simplify connecting large gauge battery cables. Emphasis was given to improving the installation process of the inverter. Reliability, a clean signal, easy installation, and intelligent power management make the WF-5220 the best choice for RV inverters.
WFCO's launch of the exclusive Patent Pending, Auto-Detect technology, and the WF-5220 inverter is the latest in a long history of innovative, customer-driven solutions in the RV industry. Other WFCO innovations include an exclusive adaptation to GE slimline breakers in power centers and distribution panels. This audible Reverse Polarity alarm is fully hi-pot testable, and the first converter with 3-stage charging and many more separates WFCO from all other brands.
For additional information, please get in touch with your WFCO sales representative or our Power Pros team at 877-294-8997.
For any WFCO resources, tools, and information on our products, email support@wfcoelectronics.com with your request, or click here to download the WFCO Training Catalog. To learn more about our products through video, click here.