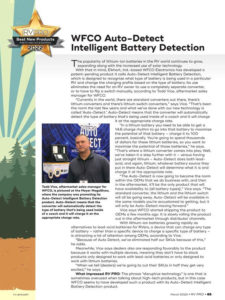 WFCO Auto-Detect – Intelligent Battery Detection
The popularity of lithium-ion batteries in the RV world continues to grow, expanding along with the increased use of solar technology.
With that in mind, Elkhart, Ind.-based WFCO Electronics has developed a patent-pending product called Auto-Detect Intelligent Battery Detections, designed to recognize what type of battery is being used in a particular RV and change the charging profile based on the type of battery. Its use eliminates the need for an RV owner to use a completely separate converter or to flip a switch manually, according to Todd Vice, aftermarket sales manager for WFCO.
"Currently in the world, there are standard converters out there, there are lithium converters, and there are lithium switch converters," says Vice. "That's been the norm the last few years, and what we've done with our new technology is called 'Auto-Detect.' Auto-Detect means that the converter will automatically detect the type of battery that's being used inside of a coach, and it will charge it at the appropriate charge rate.
"In a lithium battery, you need to be able to get a 14.6 charge rhythm to go into that battery to maximize the potential of that battery – charge it to 100 percent. You're going to spend thousands of dollars for these lithium batteries, so you want to maximize the potential of those batteries," he says. "That's where a lithium converter comes into play. We've taken it a step further with it – versus having just straight lithium, Auto-Detect does both lead-acid and lithium. Whatever battery source they put in their Auto-Detect will determine what it is and charge it appropriately.
"The Auto-Detect is now going to become the norm within the OEMs that we do business with, and then in the aftermarket, it'll be the only product that will have availability to (all battery types)," Vice says. "The standard converter, the lithium, and the lithium switch will all be going away. Auto-Detect will be available in the same models you're accustomed to getting, but it will only be Auto-Detect moving forward."
Vice says WFCO started shipping the product to OEMs a few months ago. It is slowly rolling the product out in the aftermarket through distributor channels. With lithium-ion batteries growing. Rapidly as alternatives to lead-acid batteries for RVers, a device that can charge any battery – rather than a specific device to charge a particular kind of battery – is attracting a lot of attention among OEMs, according to Vice. "Because of Auto-Detect, we've eliminated half our SKUs because of this," he adds.
Meanwhile, Vice says dealers also respond favorably to the product because it works with multiple devices. They don't have to stock products designed to work with lead-acid batteries or only intended to work with lithium batteries.
"When we tell (dealers) we're going to cut their SKUs in half, they get very excited," he says.
What impressed RV PRO: The phrase "disruptive technology" is sometimes overused when discussing high-tech products. However, in this case, WFCO seems to have developed such a product with its Auto-Detect Intelligent Battery Detection product.
For the full article, click here.
For any WFCO resources, tools, and information on our products, email support@wfcoelectronics.com with your request, or click here to download the WFCO Training Catalog. To learn more about our products through video, click here.