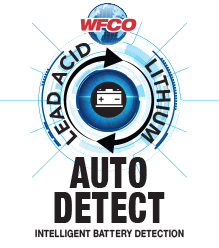 WFCO Electronics: Next Generation of Power Products – Arterra Distribution, the RV division of WFCO Group, manufacturer of best-in-class quality and value power conversion products, has launched Patent Pending Auto-Detect technology, a game changer for managing battery chemistries. Exclusively available in WFCO converters and power centers, this technology DETECTS lead-acid or lithium-ion batteries and AUTOMATICALLY changes the charging profile based on the need of the battery. The idea has been floating around the RV industry for a while, and like multiple other industry firsts, WFCO has made it a reality.
As an industry leader in power conversion products, WFCO focuses on what people need to simplify camping and improve the RVing experience. The Elkhart, IN-based engineering team and the Power Pros are led by Jamie Buckmeier, director of product development. This team took on designing and engineering WFCO's Auto-Detect technology. Buckmeier, "With lithium batteries becoming more common in today's RVs, the industry needed an intelligent lithium switching product that would allow converters to manage lead-acid and lithium-ion batteries betters. The problem has been that if you put lithium batteries in the unit, you must flip a switch to charge lithium-ion and lead-acid batteries because the profile for charging them is different. If you charge a battery with the wrong profile, you can damage the battery." The team at WFCO has successfully solved this problem. Auto-Detect uses proprietary technology to monitor the battery as it's charging, taking the guesswork and potential user error out of managing batteries in the RV.
No more worrying about specific charging profiles, balancing, or manually switching between lead-acid and lithium-ion charging modes. RV owners have the peace of mind of knowing that their batteries are charging accurately, eliminating the risk of over or under-charging. In addition, multi-stage charging and current monitoring for lead-acid and lithium-ion profiles maximize battery life by only providing the charge level the battery needs.
Auto-Detect combines tremendous performance with unmatched ease of use. It's a drop-in replacement for all current and past generations of WFCO products, and there are no changes during installation. No additional wiring or connections are required, and product dimensions are identical to what's been in the field for years. In addition, the new Auto-Detect converters and power centers feature improved fan operation. A new variable-speed fan algorithm provides quieter operation at lower amp draw and responds better to changes in DC loads. Auto-Detect will be available in all converter and power centers: WF-8500 series, WF-8700 series, WF-8900 series, WF-9500 series, and WF-9800 series, along with the REP and MBA replacement parts.
For more information about Auto-Detect, visit Auto-Detect Intelligent Battery Detection.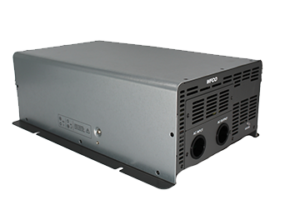 WFCO Electronics has also gained an edge by introducing the WF-5200 series of pure sine wave inverters. WFCO's new WF-5220, a 2000-watt inverter, offers superior performance, easy operation, and simplified installation. The internal transfer switch automatically allows the full pass-through of 30 amps of power to provide unmatched electrical system flexibility in an RV. Another key benefit of the WF-5220 is running a 15,000 BTU roof-mounted air conditioner while inverting from battery power. Installation is simplified with WAGO-style spring latches on all AC connection points and externally mounted DC terminal blocks. Reliability, a clean signal, easy installation, and intelligent power management make the WF-5220 the best choice for RV inverters.
WFCO's launch of Auto-Detect and the WF-5220 inverter are the latest in a long history of innovative, customer-driven RV industry solutions. Other WFCO innovations include an exclusive adaptation to GE slimline breakers in power centers and distribution panels, an audible Reverse Polarity alarm that is fully hi-pot testable, the first converter with 3-stage charging, and many more are what separate WFCO from all other brands.
For additional information, please visit our website wfcoelectronics.com, and contact your WFCO salesperson or Power Pros representative at 877-294-8997.
For any WFCO resources, tools, and information on our products, email support@wfcoelectronics.com with your request, or click here to download the WFCO Training Catalog. To learn more about our products through video, click here.