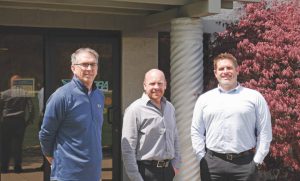 WFCO executives (from left to right) Brent Lehman, director of sales; Jamie Buckmeier, director of product development; and Bobby Raatz, managing director, are pictured in front of the company's offices in Elkhart.
WFCO Embraces the 'Off-Grid' Market – Due to the growing boondocking market, the OEM supplier is developing more and more products geared toward adventure camping.
Primarily fueled by a younger demographic interested in "experiential" outings, boondocking has exploded in popularity in the past few years. It has injected new life into a nearly overlooked segment within the RV industry: adventure camping.
Where previously units that met within this description usually took the shape of small, modified-teardrop bodies that emphasized low weights, contemporary adventure campers have grown up – literally – and now rival their ultra-lightweight travel trailer cousins in size and amenities.
They often surpass these more traditional trailers in equipment. Aside from the usual array of creature features, adventure campers also tend to carry more specialized electronics – from solar panels to inverters – allowing outdoor enthusiasts to head off-grid without disturbing the environments they plan to explore.
It's a trend that Elkhart, Ind.-based WFCO Electronics is capitalizing upon.
"For us, the fastest growth over the past year has been inverters," says Bobby Raatz, managing director of WFCO and its subsidiary, Arterra Distribution (which distributes WFCO products exclusively). "I think a lot is the move to boondocking or 'dry camping' – getting away from your typical campground setting. It's been a big boom in smaller trailers. More manufacturers have started offering inverters with our solar packages to power what circuits they need while remote camping."
Developing Offerings to Support Boondocking
For WFCO Electronics – the North American arm of the WFCO Group owned by the Cheng family that also has manufacturing operations in Asia and Taiwan – the move to boondocking also charges the company's product development.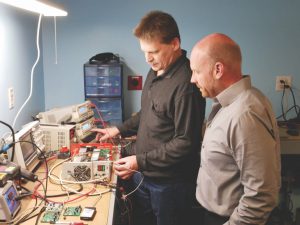 Application Engineer Doug Pettifor (left) tests the performance of a new WFCO power product developed in the company's engineering lab, as Buckmeier observes.
"There are several things in the pipeline that we're trying to get ready by the end of this year," Raatz says. "We'll introduce a patent-pending technology on our converter product that completely reinvents that whole process of how a converter deals with different battery chemistries. We also have a new inverter product line that we've launched the first product of – a 2,000-watt inverter that's the entry point we're going to build into a full line. With the demand for inverter products growing, what we had previously didn't suffice. So, our 1,000-watt inverter will remain, but for our 2,000-watt and bigger units, we're going to an entirely new platform."
According to Raatz, the company expects to have the first inventory of the new 2,000-watt inverter stateside in August, while WFCO's new converters with "auto-detect" capabilities are expected to be in stock later in the year. Both products were developed in-house; WFCO's Elkhart facilities include engineering and product development divisions.
"Our goal as a group was to become that 'go-to' company," says Jamie Buckmeier, director of product development. "So, while we had inverters, we asked ourselves, 'How do we become the right inverter for what people are trying to do?' Let's focus on what people are looking for and what things are not in current products that we can offer to make that camping experience better and easier."
While WFCO's current chargers will charge both lead-acid and lithium-ion batteries, the two battery types require different charging profiles for a complete charge; today, end-users need to flip a switch on the charger when changing battery types to ensure the correct charging profile is used. It's not a change that happens often – and, as a consequence, it's something that's often overlooked. Given the cost of a 12-volt lithium-ion battery (usually between $800 and $1,000), it can be an expensive mistake. That, Buckmeier, is how the company's "auto-detect" project started.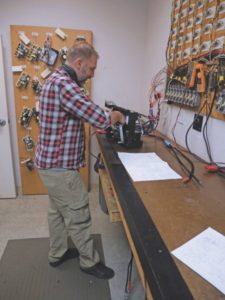 Application Engineer Mike Miles tests a prototype power product he helped develop to ensure its compliance to design specifications. The product was developed at WFCO's Elkhart facility.
WFCO's auto-detect feature, Buckmeier says, handles that on its own. There's no switch; instead, it detects what battery type is being charged and what it's hooked up to and changes the charge profile based on the battery.
"There are two roads a supplier can travel," he adds. "A product can be very complex – an inverter, for example, can have a monitor where the user could call up displays of everything, including voltage, amperage, power – or it can be simple. Some people want things to work. They want to plug in and go camping. And that's what we're doing – making what we have better and taking us to the next product generation."
Being Responsive to OEMs' Power Wants, Needs
Another area the company's OEM partners wanted to explore, Buckmeier says, was running shore power right through the inverter to power the entire RV.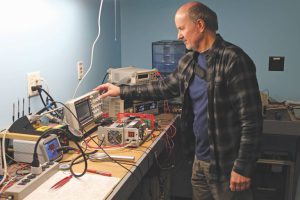 Application Engineer Mike Miles tests a prototype power product he helped develop to ensure its compliance to design specifications. The product was developed at WFCO's Elkhart facility.
"Now, you have to be aware of what your power requirements are, and you have to try and manage that power – most RVs cannot run everything off a 1,000-watt inverter or even a 2,000-watt unit – but our new product has an auto-reset breaker within it that allows someone that option to run shore power directly into it. This wasn't possible with prior products without that internal breaker mechanism because there was no protection on that line other than at the pole."
WFCO also discussed with OEMs making additions to its energy management systems, which are designed to prioritize power to different circuits depending upon user demands (the company's electrical-based products include converters, power centers, distribution panels, and transfer switches). The system employs a load shedding/ sharing circuitry which, for example, will automatically shut down the air conditioner when the microwave is in operation, then power it back up afterward.
"Today, we control two items, but we'll ask, 'Do you want to control more?' You can have an energy-management system to manage just about anything you want, but you're going to pay for it," says Buckmeier. "You won't put such a system in a low-cost RV – yet some of those low-cost units still have needs, especially when boondocking. We look at alternatives that aren't available or in higher-end products that we can develop cost-effectively to use on more entry-level units."
As Raatz notes, the benefit of having product development and engineering teams at WFCO's headquarters extends beyond creating new components. Like many U.S.-based companies, WFCO was hit hard by the pandemic, as many overseas suppliers were forced to suspend production temporarily. The electronics industry, in particular, was slowed by a lack of availability of circuit breakers – a prime component for products that feed power to onboard appliances and accessories.
"The breaker shortage was so prevalent in the market – no one could get them," says Brent Lehman, sales director. "Jamie's team worked with a local supplier with GE breakers. They weren't what we had been using. Still, we quickly changed our power center and distribution panels to accept the GE breaker, and Jamie worked with UL (Underwriter Laboratories, a safety organization that sets industry standards for new electrical products) to expedite certification with them. By doing this, the industry shipped more than 100,000 units since last fall that otherwise may not have been produced."
That shortage of circuit breakers – which continues, says Raatz – is just one of several shortfalls that have affected supplier product delivery times to RV manufacturers. Raatz notes that WFCO was forced to extend its lead times "from about five or six weeks of transit time to 60 to 90 days."
Ramping Up Products, Building Up Inventories
With a majority stake within the OEM channel, WFCO is taking steps to ramp up production and build up inventory in its Elkhart warehouse to guard against future disruptions by adding another 34,000 square feet of warehouse space, according to Raatz. Additionally, WFCO will have "just shy of 95,000 square feet" of warehouse space available.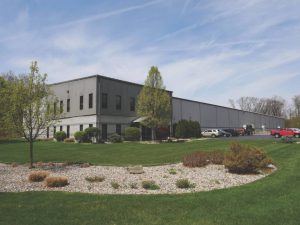 WFCO headquarters in Elkhart
"We aim to ensure we have enough inventory in our position to ensure we take care of all our customers," he says. "We have a tremendous amount of market share that we need to be protective of, and our manufacturing partners need inventory support at all times. It's critical – they can't run production without it. The industry will be impacted quickly if we're out of stock."
Changes made to products to keep them in production also have increased the company's need for inventory. According to Raatz, WFCO nearly doubled its SKU numbers last year. As of July, a number further increased by new lithium-dedicated components and the integration of a reverse-polarity function into many products required by the RVIA code.
"A number of our key industry customers have already taken on our reverse-polarity feature," Raatz says. "It's not a protection feature but a notification so that it won't shut the power off."
As for boondocking, the management crew at WFCO doesn't envision the trend falling off in the future.
"The product managers we've talked to are all saying that it's not something they see going away anytime soon," Raatz says. "It's not a flash in the pan – and it's not just younger campers not wanting to park on a cement pad in an RV park. A lot of it is due to campground availability. Try and find a campground where you can camp on a weekend if you haven't booked it well. You can't get in.
"So, that pushes people more and more to ask, 'Where can I boondock?' People are being forced to go with alternatives of where they want to camp and what they want to do," he says. "We're helping them to do that."
For any WFCO resources, tools, and information on our products, email support@wfcoelectronics.com with your request, or click here to download the WFCO Training Catalog. To learn more about our products through video, click here.