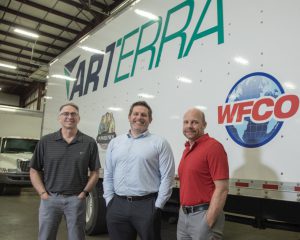 Pictured (L to R) are WFCO team members Brent Lehman, sales director; Bobby Raatz, managing director; and Jamie Buckmeier, product development director. Photo: Shawn Spence for RV Business
Growing demand for its products and the desire to expand and better serve its customer base have led Arterra Distribution, a division of the WFCO Group, to undertake a significant expansion project at its Elkhart, Ind., facility.
"We've started a construction project to add 34,000 square feet to our warehouse," said Bobby Raatz, Arterra managing director. "That will take up to over 90,000 square feet of warehouse space."
Raatz said lessons learned over the past 16 months clarified that Arterra can better serve its customers by having more space to accommodate more products.
"That way, we can absorb the ebbs and flows of logistic issues and material shortages better than we have been able to so far," he added. "As we look at where we've been and where we're going to be – a partnership between our engineering side, product development, and the OEMs – we're doing what we need to do internally to position ourselves to be fully prepared for increased demand or any global economic uncertainty that may arise."
Initial phases of the project have already begun, and the additional space is expected to be fully functional by year's end.
Raatz said the company will be exhibiting at the supplier expo as part of the Elkhart Dealer Open House Sept. 27-30 at RV Hall of Fame, noting that WFCO's vision and focus have always been to work in partnership with OEMs to solve their problems and create innovative power conversion product solutions for the RV market.
WFCO's engineering team – the Power Pros – has over 90 years of industry experience, working hand in hand with OEMs to create innovative product solutions, Raatz said.
An example of this teamwork came during the fall of 2020 when an industry-wide shortage of traditional breakers created an opportunity for new breaker styles to be evaluated. Ranger Distribution partnered with ABB/GE to bring a unique breaker style to fill the supply chain shortage.
"We modified our distribution panels and power centers to allow this alternative breaker style to be used by the RV industry." Raatz added, "This rapid response has allowed at least 150,000 RVs to be built and shipped that would not have been built due to continued supply constraints of the traditional breakers."
Meanwhile, WFCO's audible reverse polarity alarm – available in all WFCO power centers and distribution panels – meets the new NFPA/NEC code that requires reverse polarity indication in all new RVs manufactured.
The WFCO design allows hi-pot testing without bypassing the device and does not require any additional wiring or connections.
"With the upcoming RVIA code requirement for reverse polarity notification, we wanted to develop and integrate the technology inside our existing products, not to add any extra steps for the OEM installer. We aim to provide best-in-class quality and value with ease of installation." Jamie Buckmeier, product development director.
To learn more about GE Breakers and Audible Reverse Polarity Detection visit https://www.wfcotech.com/product-downloads/.
To reach out to the Power Pros for collaboration or service support, call 877-294-8997, email arterra.powerpros@gmail.com or visit https://www.wfcotech.com/meet-the-power-pro-team/
For any WFCO resources, tools, and information on our products, email support@wfcoelectronics.com with your request, or click here to download the WFCO Training Catalog. To learn more about our products through video, click here.